Here's my IMDb review of Skyfall
*
I'll discuss the film using some information that may spoil it if you've not seen it. You're warned.
*
We have arrived (and a quick, but far from perfunctory hat tip to the Overseer,
The Incredible Suit
). Two years of craning over the laptop keyboard to beat out or siphon off what exactly makes this juggernaut of a film franchise tick have matured. Well, that or we have reached the deadline to inventory the evolving fashion in tuxedos and just-licit women's casualwear since 1962.
Identifying the DNA of a Bond film (there being one at all) and tracking it through five decades of reiteration has been rather fun. It also has some sort of purpose as we stare at the glossy, gutsy and familiarly gormless world that is
Skyfall
, the twenty-third film of the series. Daniel Craig, a Bond un-bound to Bond, give us more of the hard nut from
Quantum Of Solace
and a fair bit of the heartache from
Casino Royale
.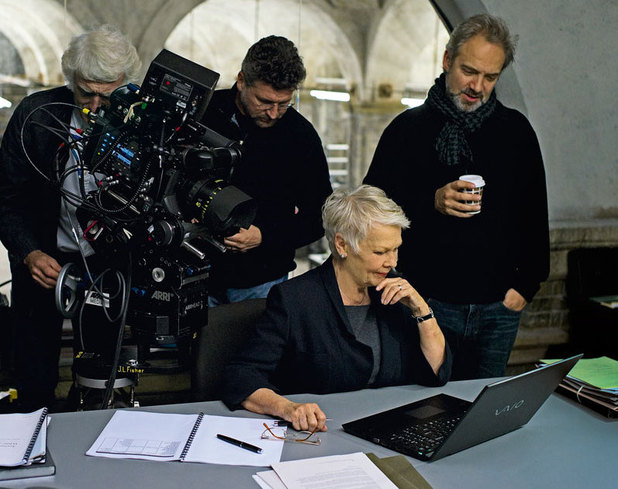 Like Christian Bale as principal of another, concurrent series of modern B movies, the Christopher Nolan
Batman
films, he is increasingly less important in the latter films than the supporting cast around him.
Skyfall
is a film about Bond but it is a story told through his superior, Judy Dench's M, and using the charisma bomb of Javier Bardem's villain-fop to generate all the fun and action.
I had two serious reservations about
Skyfall
. Given that I found it only passably entertaining, this is worrisome. It is a good film, as one might expect from a proper, name director at the helm. The film is coherent with an incisive prologue-epilogue pair of bookends (an achievement, given that it is a direct sequel and all but starts the nest film), consistently paced and level-headed, i.e. credible.
But for that credibility to work the film has to be all things to those demanding the legacy-inflated fantasy of Bond and those coming to the franchise in the recent context of Greengrass'*
Bourne
(and, yes, Nolan's
Batman
).
Quantum Of Solace
is Daniel Craig's personal essay in this modern, mythic, post-metrosexual, gimlet-eyed man making a hard, rough and brisk film unfettered by either expectation, which had been fulfilled in
Casino Royale
, or scriptwriters obliged to the scrabble-box of the previous canon.
Skyfall
, as the title suggests, plunges back to the recognisable from the gulfstream of the new. Quiet zingers like Bond glancing approvingly at a Martini being shaken, rather than saying a line, are few and far between. The DB5 returns, ridiculously, as it did in
Thunderball
and
Goldeneye
(it's appearance in
Casino Royale
was an original appearance, that film being a re-boot). The 're-' introduction of Q is handled well enough but - given that character's introduction - the mandatory gadgets are props to nothing.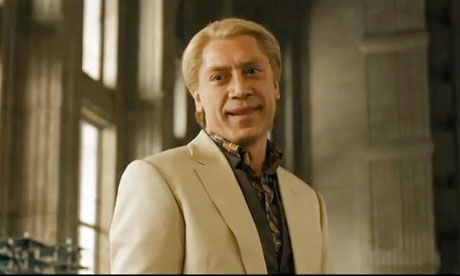 The most grating business however is the matter of the script. The exchanges between characters that are not directly expositing the film are dull, blandly suggestive dialogue that recalls the worst nonsense of the last two Brosnans. This, the preserve of Roger Moore's easily underestimated art, is not Daniel Craig's forte and sits awkwardly proud of the diegesis. Only Bardem really finds traction in the Guignol (in precisely the same way Jonathan Pryce in
Tomorrow Never Dies
did not).
Secondly, I was not convinced by - in fact, didn't even
understand
- the nature of Bond's relationship with M. This relationship is the anchor chain that is designed to drag the dazzling, quasi-superhuman spy back into the sticky, Satrean realism of state-sponsored espionage. Daniel Craig has shown that he can really work this seam of the tale but I believe he and the rest of the cast was sold a little short. The entire third act and denoument relies on a setup that is patchy and relies on the previous films for its weight. The scene in which Bardem spits abandonment simply doesn't resonate - he's just the baddie. We haven't had anything concrete to establish his parity with Bond and so nothing to enable a reflexive sympathy with Bond's situation.
I admire (I'm actually rather grateful for) Mendes' decision to run the second act, literally the Englishman's defense of his castle, as a stripped-down scrap in which resourcefulness, cunning, bravery and familial loyalty are victorious. The bitter conclusion of that makes no emotional impression on me though.
The World Is Not Enough
, Brosnan's finest essay in the role also opposite Dench is a more persuasive argument for that relationship's deep foundation both in Albion and in person - through the series' idiom of action & acting, not words. And, by the by, Roger Deakins' photography is a marvel but it's there to capture the magic, not create it in its absence.
So then: Bardem is triumphant. It's no surprise to me to have learnt that he was reticent to accept immediately and helped create a proportion of his character. I also really enjoyed Bérénice Marlohe's contribution for exactly the same reasons. Naomie Harris and Ben Whishaw, though confident on screen, struggle to find the right pitch for the reasons I've established. Fiennes is good, if opaque - but then, in a recent television interview, Mendes suggested part of that actor's brilliance is in his economy, which is just what this role requires.
Essentially I'd like to have seen more invention in either direction: either a new basket of twists on the old, persevering tropes; or a film of fresh idiom to elucidate what has gone before. Whichever route Mendes
et al
had committed to would have also shaved off the fifteen minutes of the film that were palpably unnecessary.
*
Also Doug Liman