The night before last
I watched Le Concert
, a feelgood screwball comedy concerning a concert orchestra. The drama turns as a maestro of old Russia gets his former band together to play Tchaikovsky's Violin Concerto in Paris with Mélanie Laurent as the soloist.
The weight of the film is a complicated and ill-executed subplot in which Laurent's character turns out to be the orphaned child of almost every protagonist; the fun is in the contrast between the old Russian musicians and new Russia/Europe. So, the music is simply the MacGuffin and armature upon which everything is hung. Relegated, the performing itself isn't well-observed. Laurent seems to have a rough idea of the appearance of a solo violinist but Aleksey Guskov couldn't conduct a bus.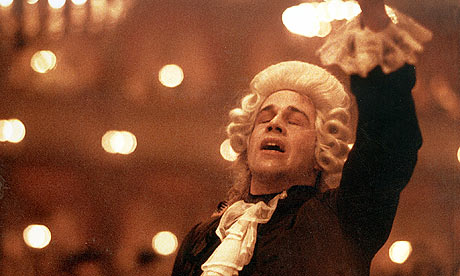 It got me thinking. Where else does one see good or bad examples of musicians 'doing' music on screen? Composer and other musician biopics are obviously going to be the litmus test. Tom Hulce (right) and F. Murray Abraham stick to some pretty rudimentary gestures in
Amadeus
(1984) but this allows them to stay in character and combine their gestures with the wider drama. In a way it's a bit easier for instrumental musicians: Forest Whitaker's Charlie Parker (in
Bird
, 1988) and Emily Watson's Jacqueline du Pre (
Hilary and Jackie
, 1998) who almost substitute their narcotic convulsions and pre-MS insecurities (respectively) for technique in order to give the impression of idiosyncratic performance.
The best way around the issue is to have a real conductor in the actor's position. Stokowski's silhouette presides over the perenniel wonder of
Fantasia
(1940).
Valery Gergiev pops up at the end of Alexander Sokurov's remarkable Russian Ark (2002)
. Then there is the sensational scene in Hitchcock's second edition of
The Man Who Knew Too Much
(1956), in which his long-time composing collaborator Bernard Hermann is shown conducting his own piece at the Royal Albert Hall:
Of course, when the orchestra and music that the character is 'conducting' are meant to be truly awful, then the actor can pretty much do what they want: